SchMitt e.V. - Schönes Mittelfeld
Education - participation - encounter - the work of the association is based on these three pillars SchMitt e.V. , which was founded in 2001 with the aim of ensuring sustainable urban development in Mittelfeld to contribute. Since April 1, 2022, the association has been in the building of the "Nachbarschaftstreff Mittelfeld", where he creates offers in the areas of education, language, exercise, health and empowerment with an intercultural connection.
What are our goals?
Create space for respectful and open coexistence of different groups and ways of life in the district
Intercultural exchange at eye level & elimination of prejudices
Low-threshold project work based on the interests of the residents
Strengthening of self-commitment of the residents in the district
To connect people with each other, to make resources available and to convey information
Current projects:
information offer "Gut zu wissen Kiste" (Cooperation with Gemeinwesenarbeit Mittelfeld)
Summer holiday program offers Mittelfeld 2022: bike rides and dance for adults and children
Open cafe im Nachbarschaftstreff (Cooperation with geMit eV)
Trust library im Nachbarschaftstreff (Cooperation with geMit eV)
Open sewing in Nachbarschaftstreff
Print & Copy in Nachbarschaftstreff
Laptop use in Nachbarschaftstreff
Bicycle course for women
District website Mittelfeld Maintenance & Editing (since 2008)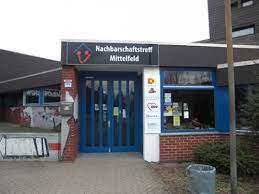 office of Nachbarschaftstreffs - Coordinator Karin Ziezalka (geMit e. V.) Closed from December 23, 2022 - January 3, 2023 office SchMitt e.V. Schönes Mittelfeld Daniela Rück Closed from December 21, 2022 - January 8, 2023 Form help Last date 2022: 14....