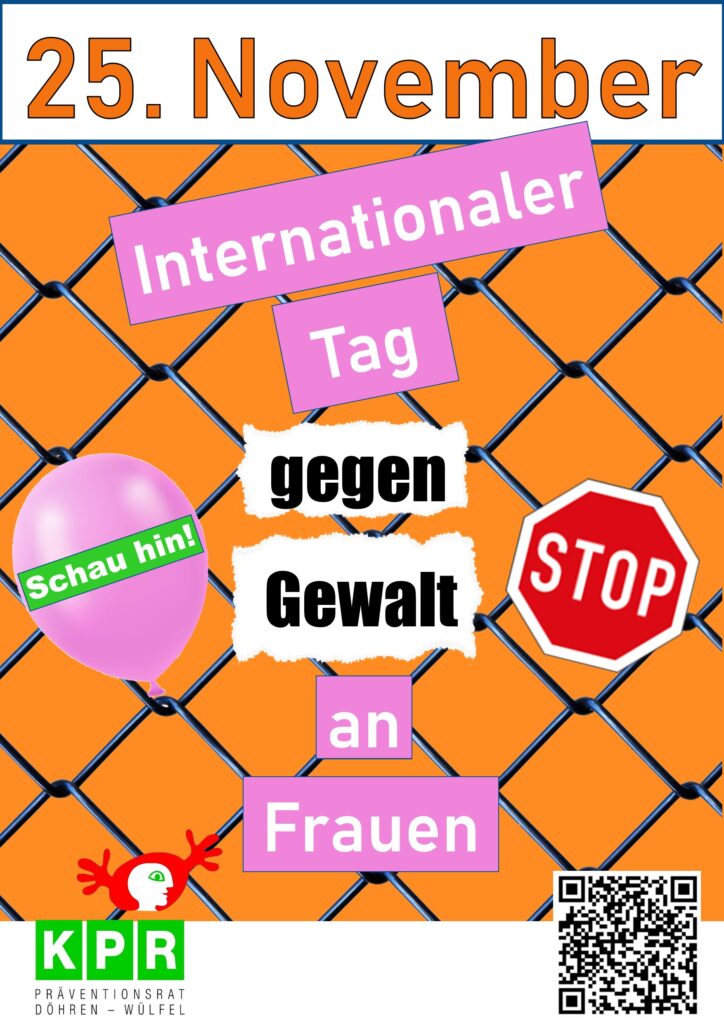 Impressions from November 25.11th:
On the initiative of Municipal Prevention Council Döhren-Wülfel (KPR) draws attention to the International Day against Violence against Women at various locations in the district.
With colorful slogans and balloons, the KPR would like to raise awareness of the issue of violence against women and draw attention to offers of help. The design of the places with the presence of contact persons on site will take place on November 25 at different times between 8.30:15.00 a.m. and XNUMX:XNUMX p.m. The slogans will still be visible in the following days.
Together with cooperation partners, we will be active at the following locations:
In Mittelfeld at the family center of the Gnadenkirche/Rübezahlplatz from 8.30 a.m. to 9.30 a.m. and from 14.00 p.m. to 15.00 p.m., at the zebra crossing Ahornstraße/corner Am Mittelfelde from 9.00 a.m. to 13.00 p.m. and at Brunnenplatz/bus stop Am Mittelfelde from 10.00 a.m. to 12.00 p.m.
In Döhren at Fiedeler Platz from 10.00 a.m. to 13.00 p.m. and in front of the neighborhood meeting point on Borgentrickstraße from 12.00 p.m. to 14.00 p.m.
In Wuelfel at the furniture center mömax in the Behnstraße Hannover-Wülfel from 11.00 a.m. to 13.00 p.m.
Feel free to stop by. Both the issue of violence against women and domestic violence concern us all. For more information, see also www.hannover-mittelfeld. De
Gudrun Schildt
Gemeinwesenarbeit Mittelfeld
E-mail: gudrun.schildt@hannover-stadt.de
Tel: 0511 / 168 33779-